Warre-Team delegation welcomed the Hungarians when they arrived in Helsinki.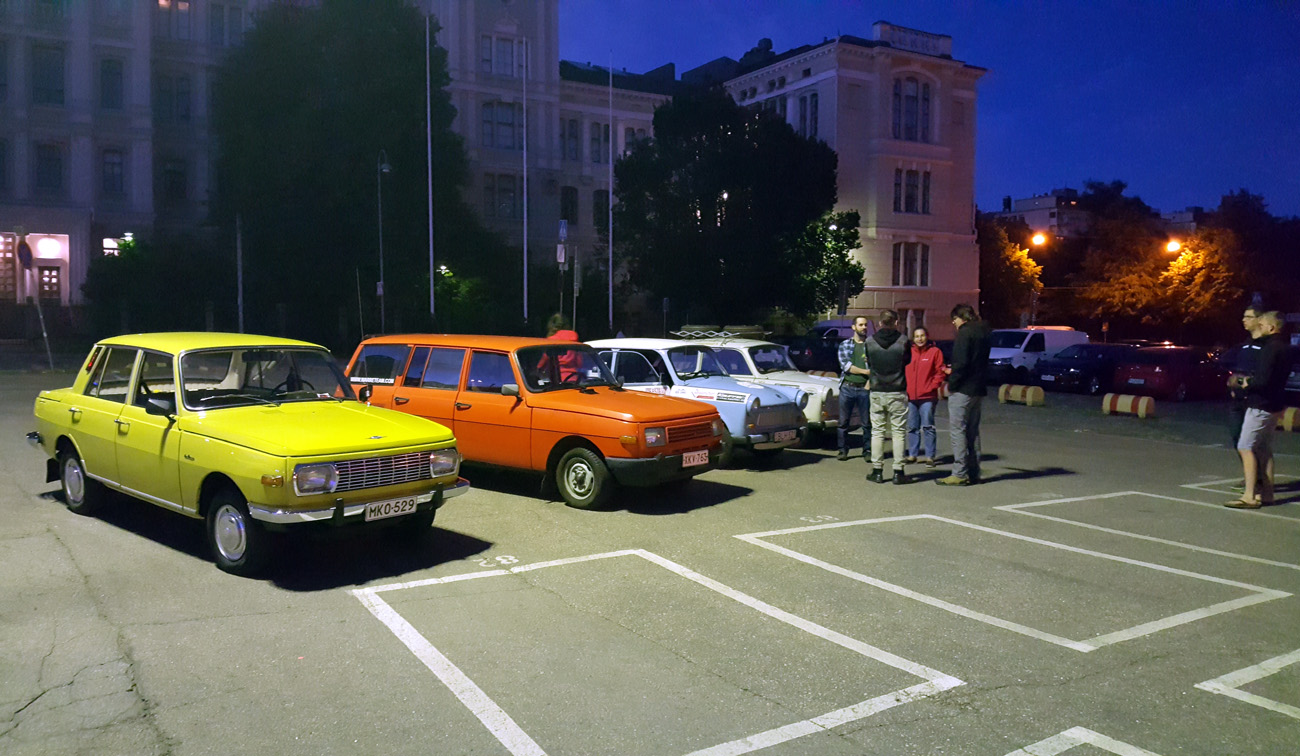 The Hungarians and their Trabants "Bodobács" (Finnish: varjolude) and "Bolha" (Finnish: kirppu) arrived by
ferry from Tallinn on late Monday evening. Warre-Team delegation was waiting on the Hietalahti Market
Square. It was a pleasure right from the beginning to meet these nice Hungarians.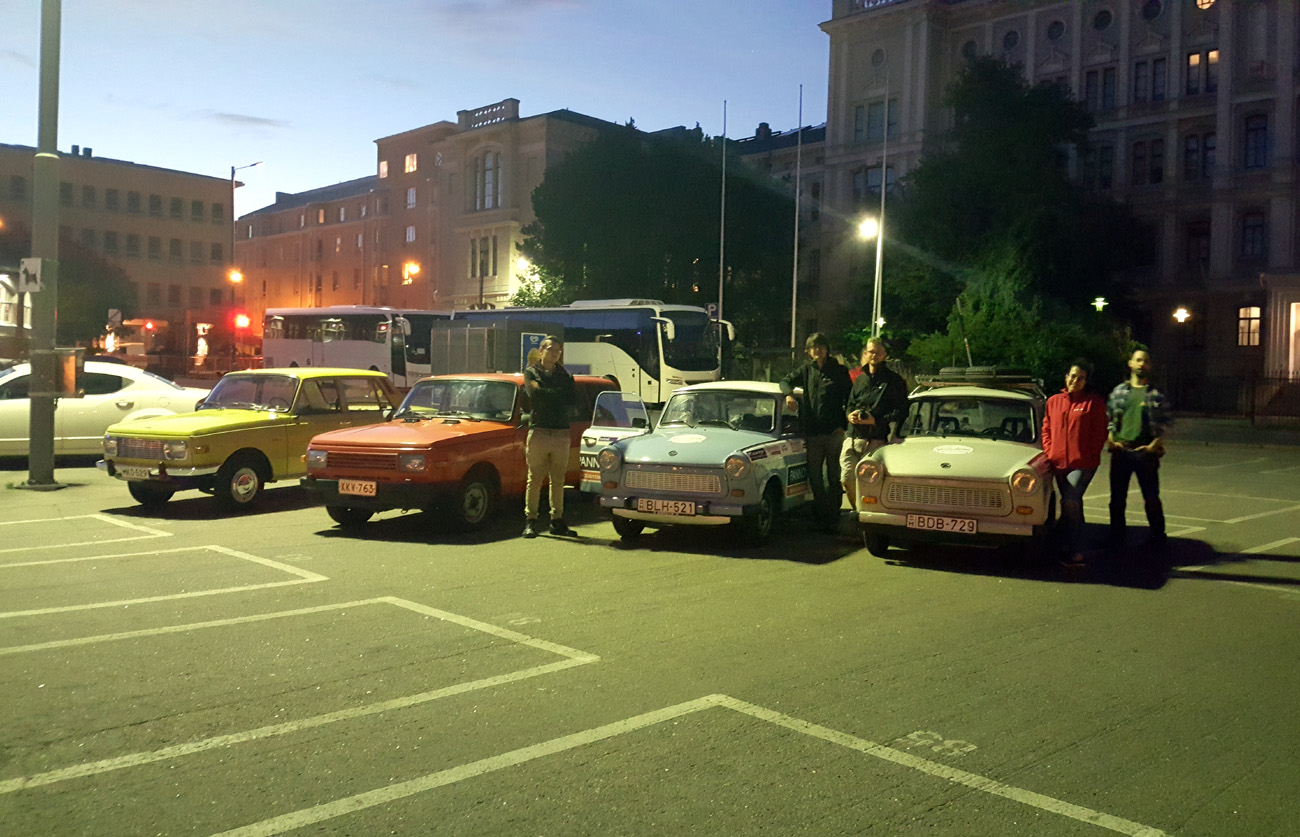 Warre-Team had received information beforehand from the Hungarians about the piston ring issues that had occurred
in the Bolha Trabi engine in Estonia. The Blitzkrieg troops of Warre-Team had been activated immediately and the spare
parts that would possibly be required for the Trabi were sourced from Pöljän Varaosakeskus. The international risk
analysis around the threats of piston ring topic in order to define the required actions was started immediately
in the Hietalahti Market Square. Finally, the Trabants were escorted by Warre-Team to their accommodation.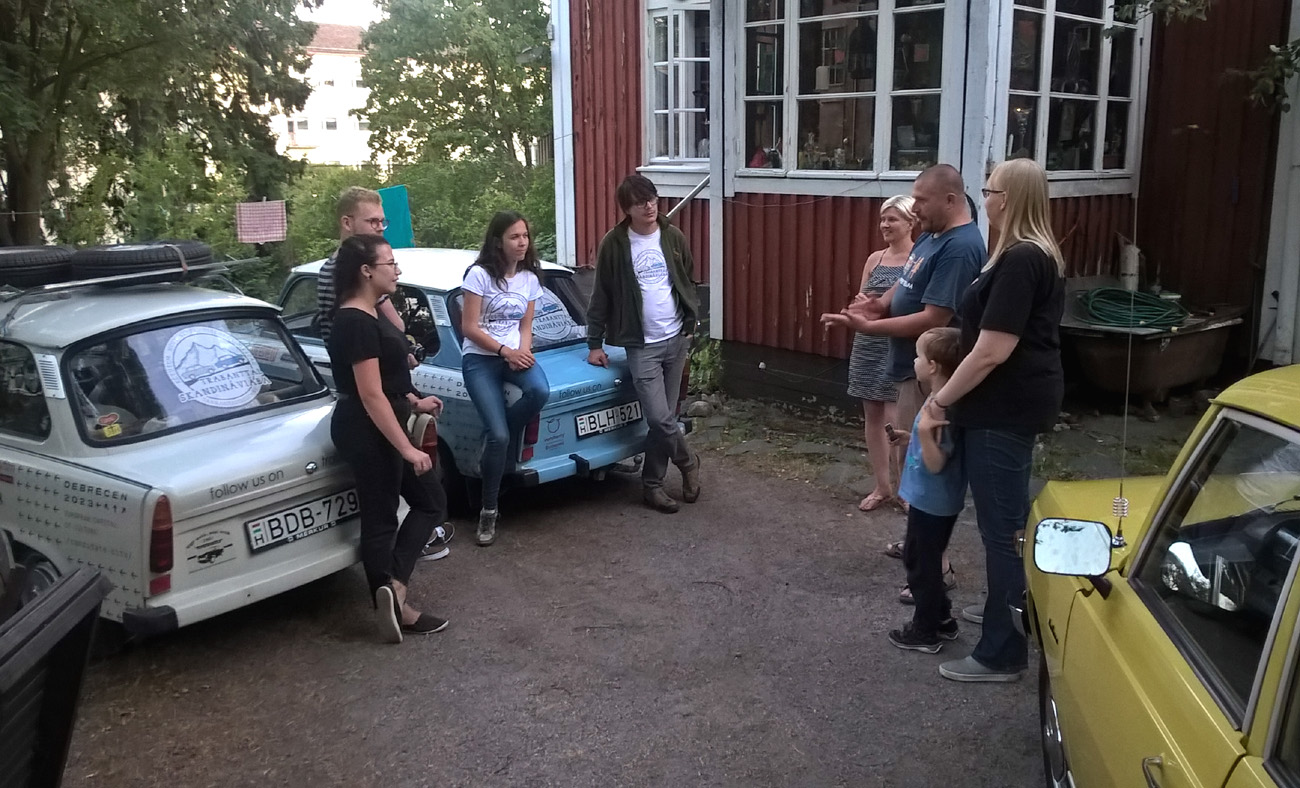 On Tuesday evening the Warre-Team delegation together with the Hungarians had unofficial welcome ceremonies.
The piston ring issue was still there and the risk analysis and recovery plan had to be finalized in order to get the
required actions started. After summarizing the comments that had been received from top Trabant gurus from
Germany, Hungary and Finland, the required actions were identified. The actions were the following: 1. Heat up
the sauna. 2. Go to the sauna. 3. Take it easy. 4. Repeat phases 2-3.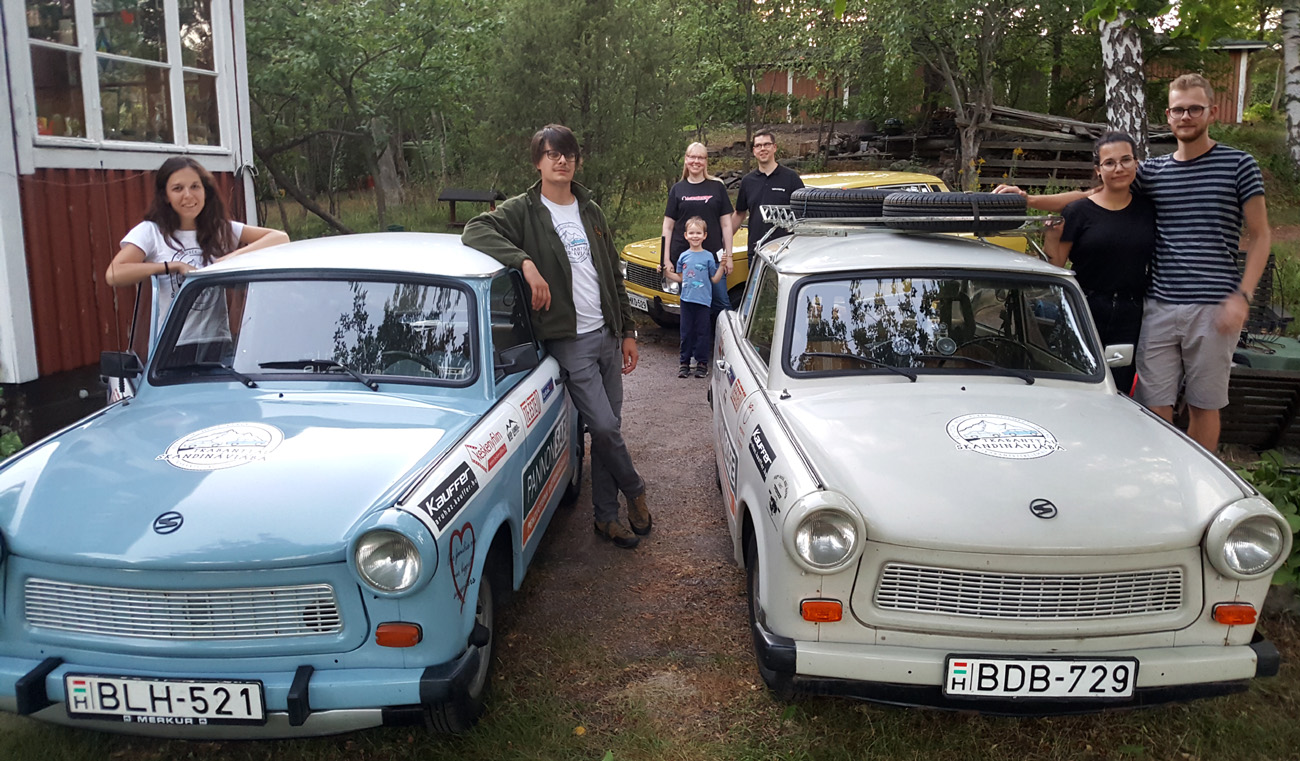 The representatives of these kindred nations had good time together.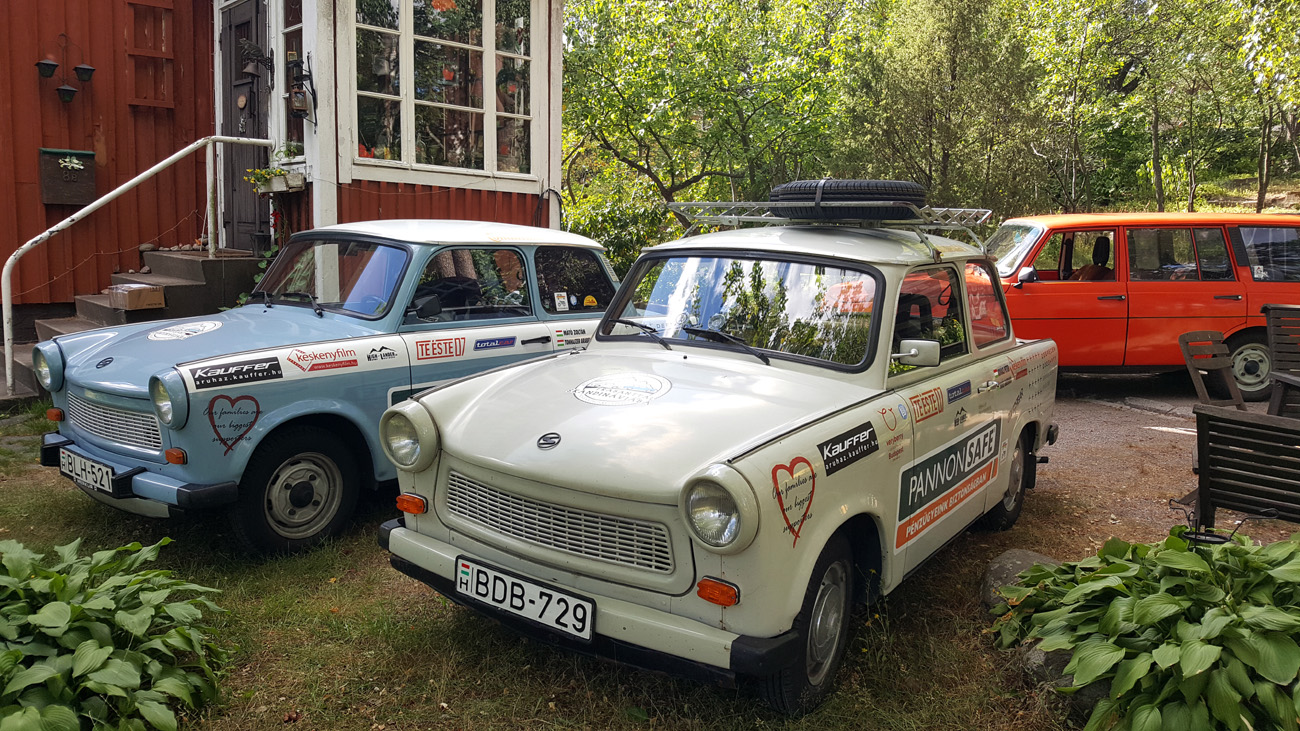 Trabants Bolha (BLH-521) and Bodobács (BDB-729) together with Iippo's Wartburg Tourist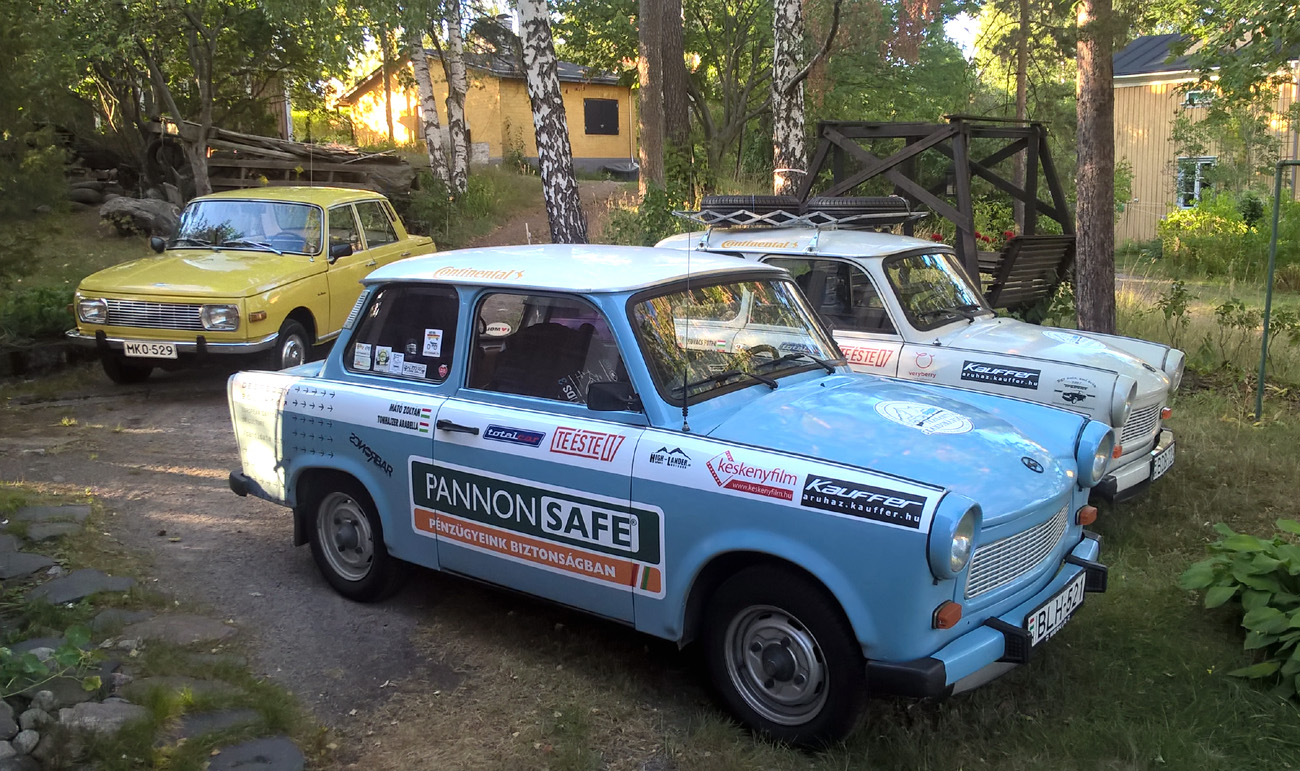 The Hungarians have been clever to find many sponsors for their journey. J.K.'s Wartburg is behind the Trabants.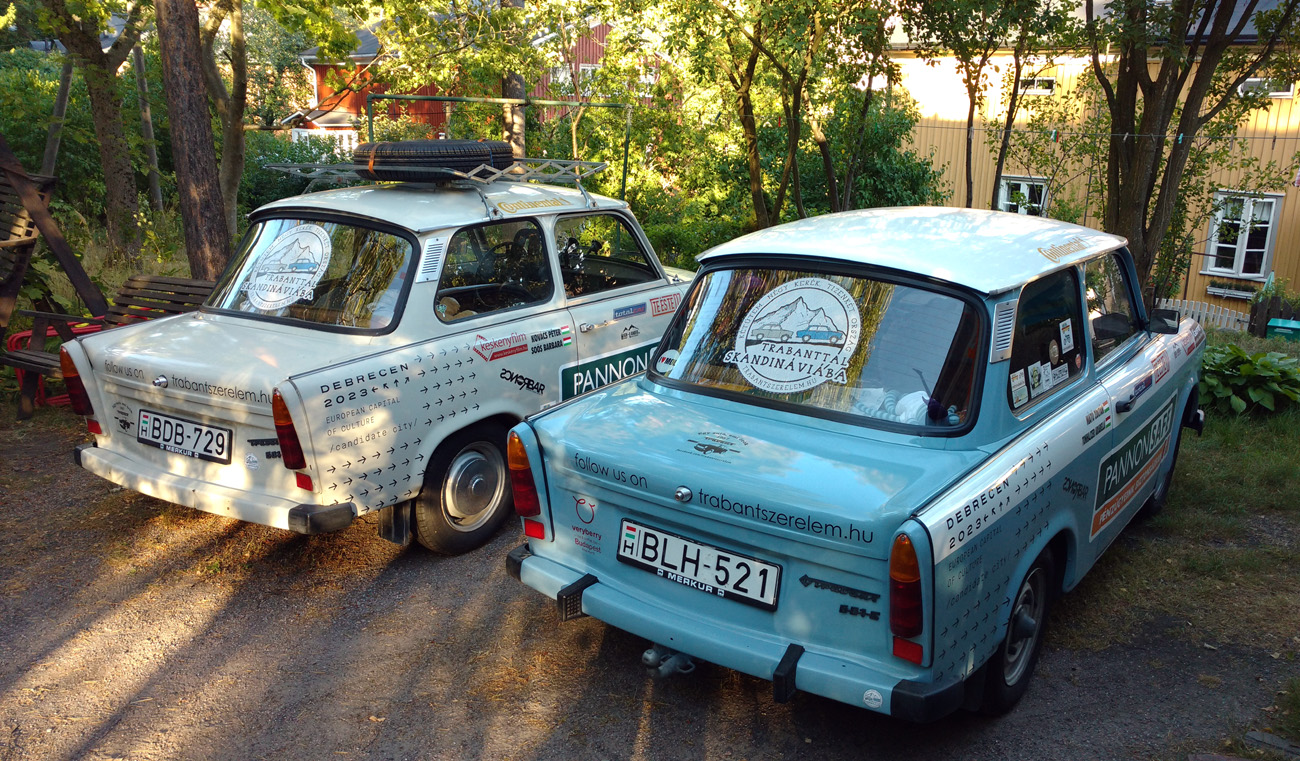 Spare tires for both cars are travelling on the roof rack.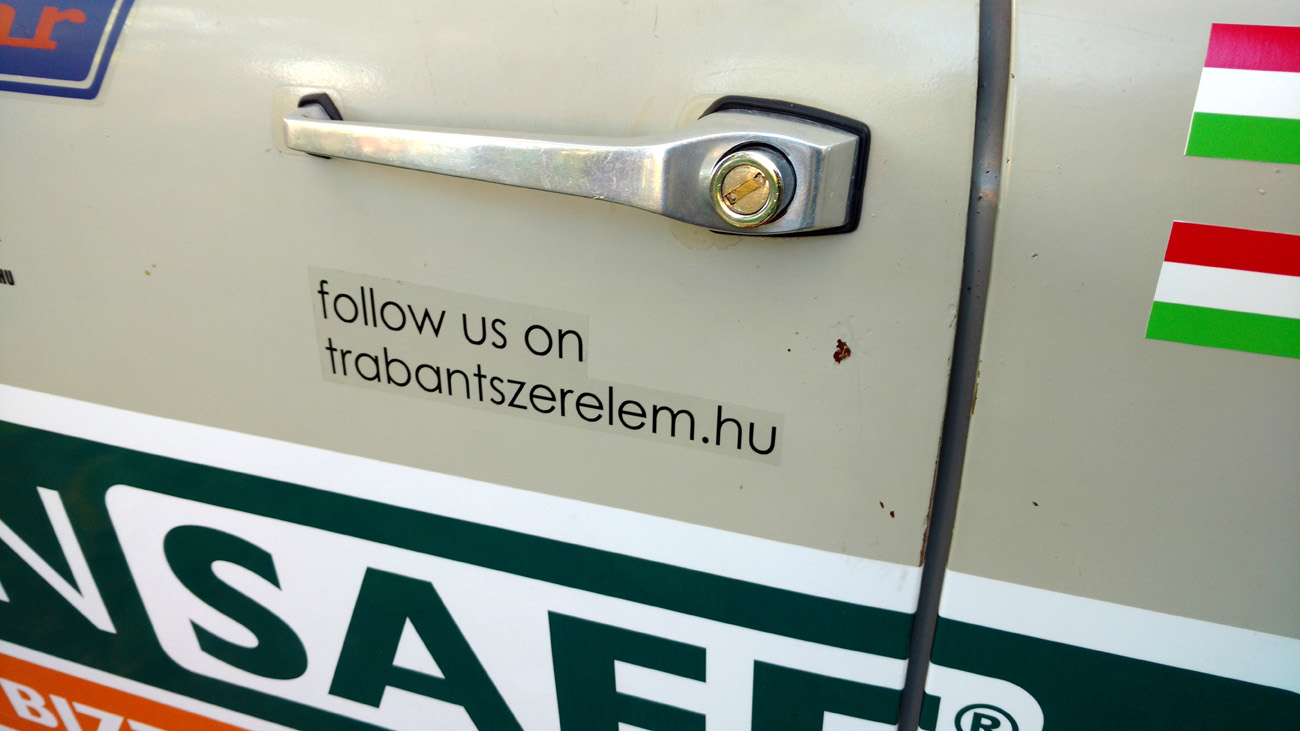 The Hungarians are very active on social media.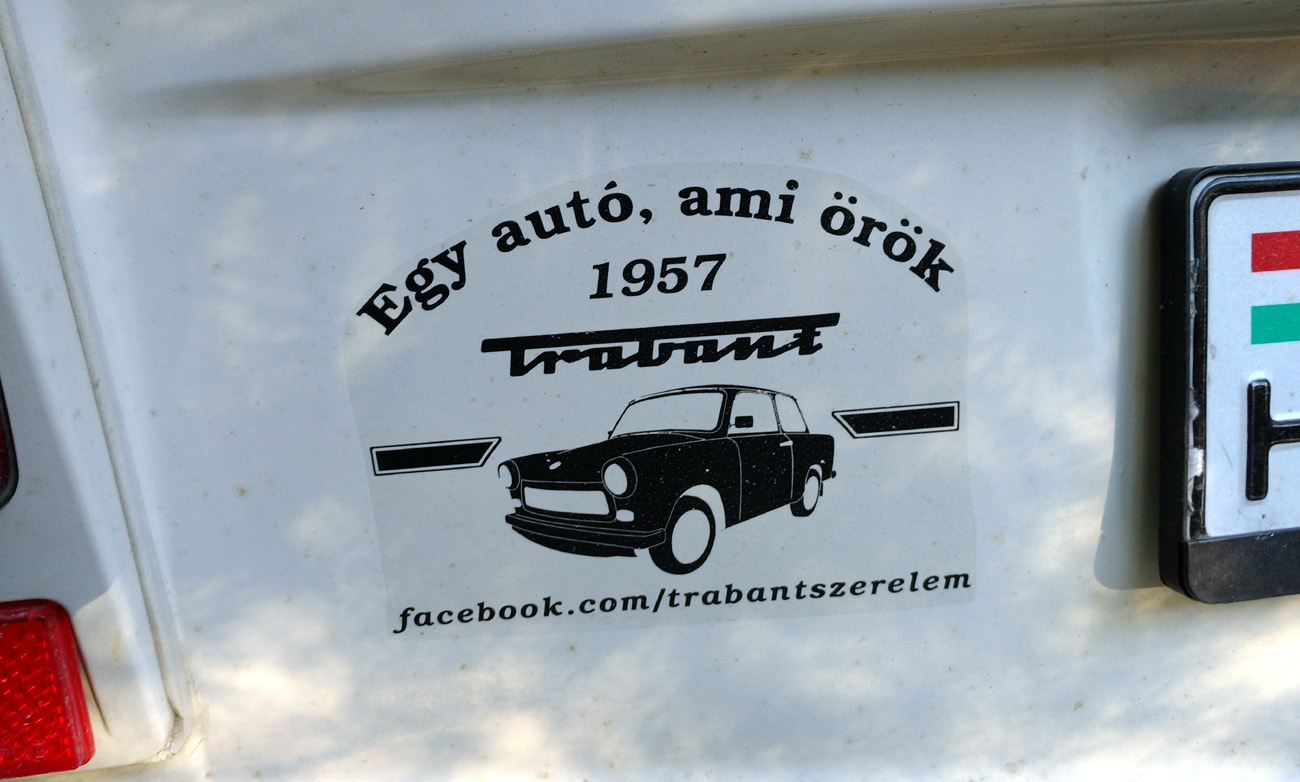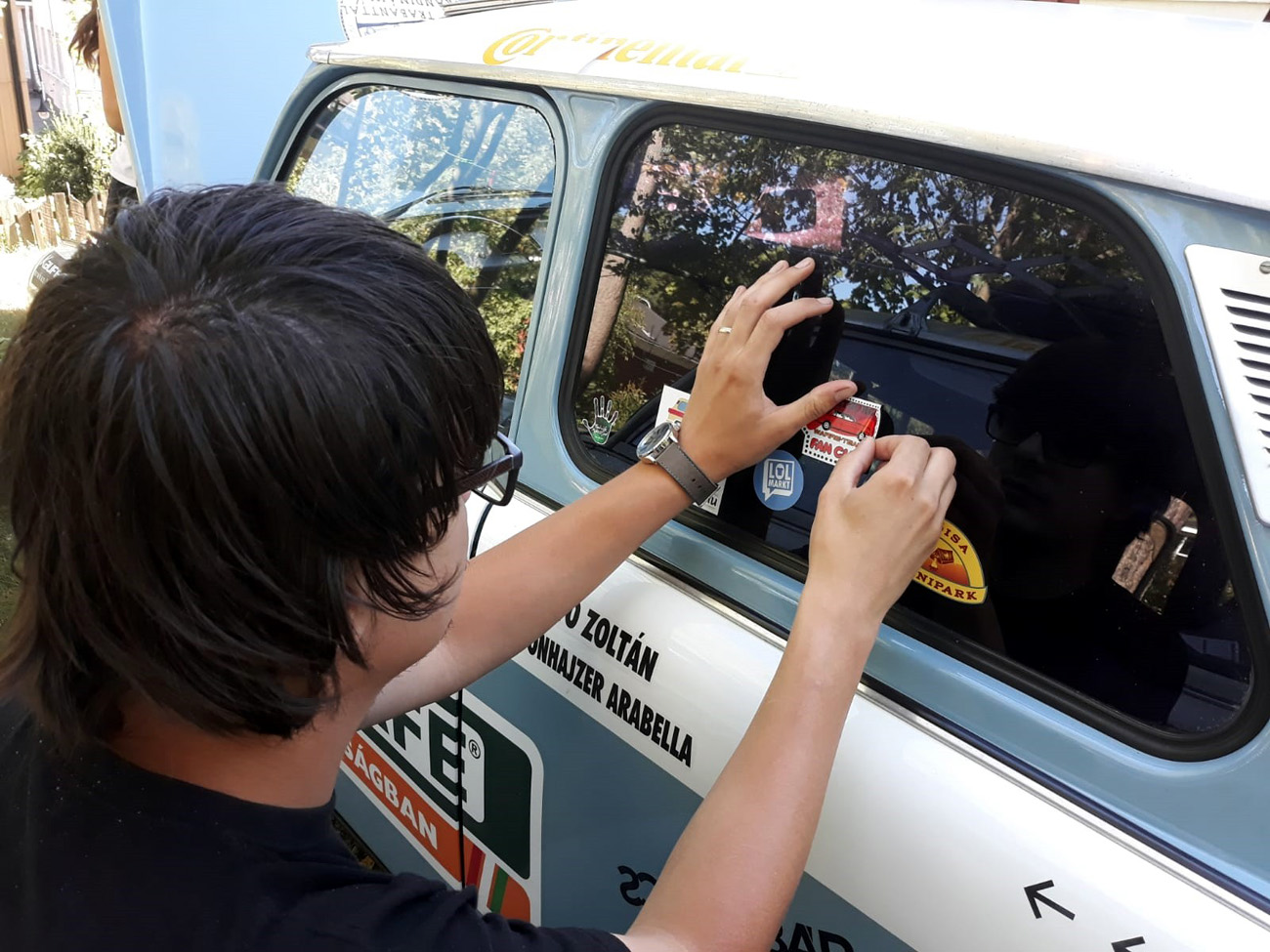 Warre-Team noticed the potential for coverage and the official Warre-Team retro-stickers were of course
given to the Hungarians. Zoli put the sticker to the side window of Bolha.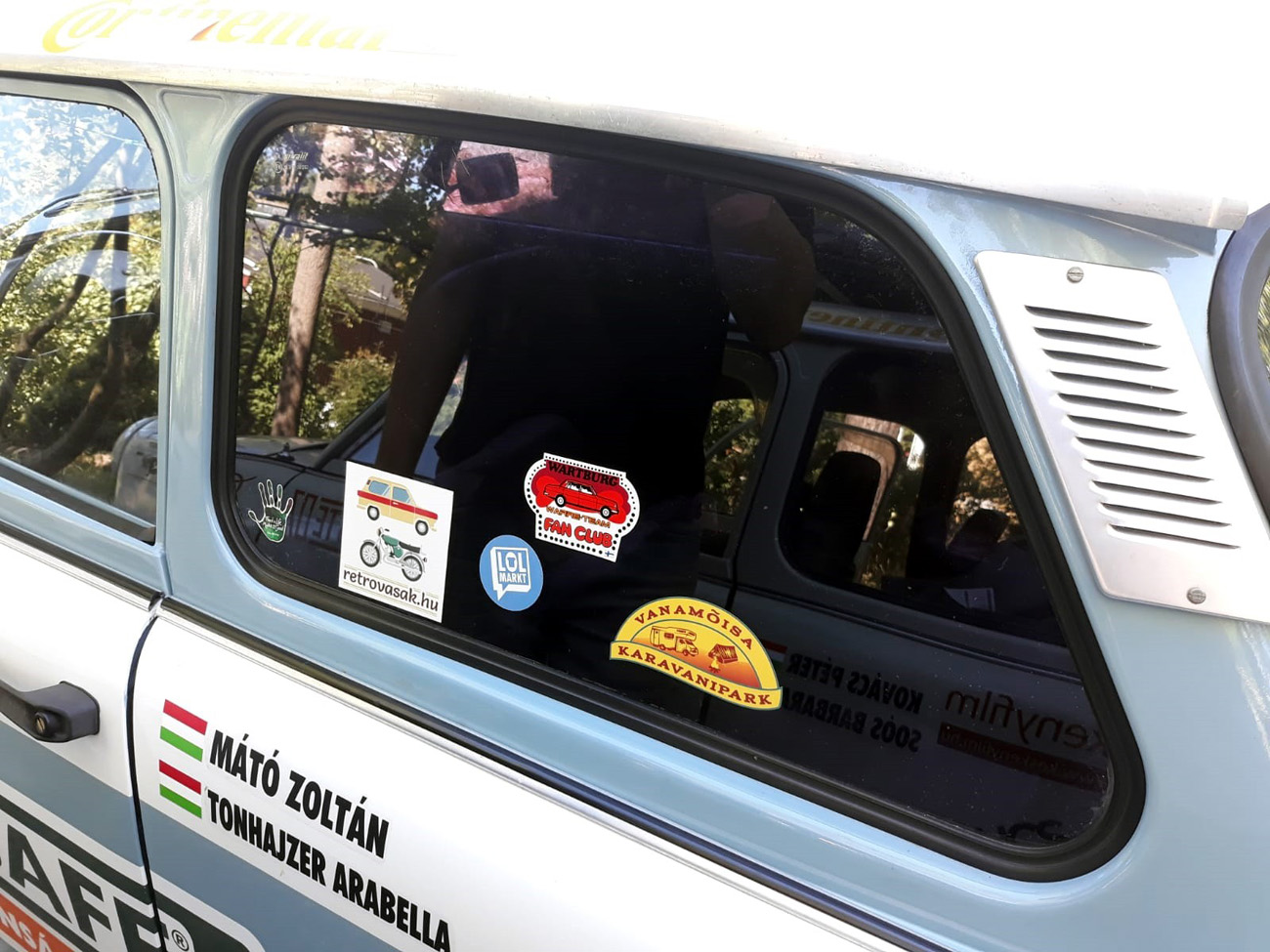 Zoli: "That's it! Nice colours, looking good!"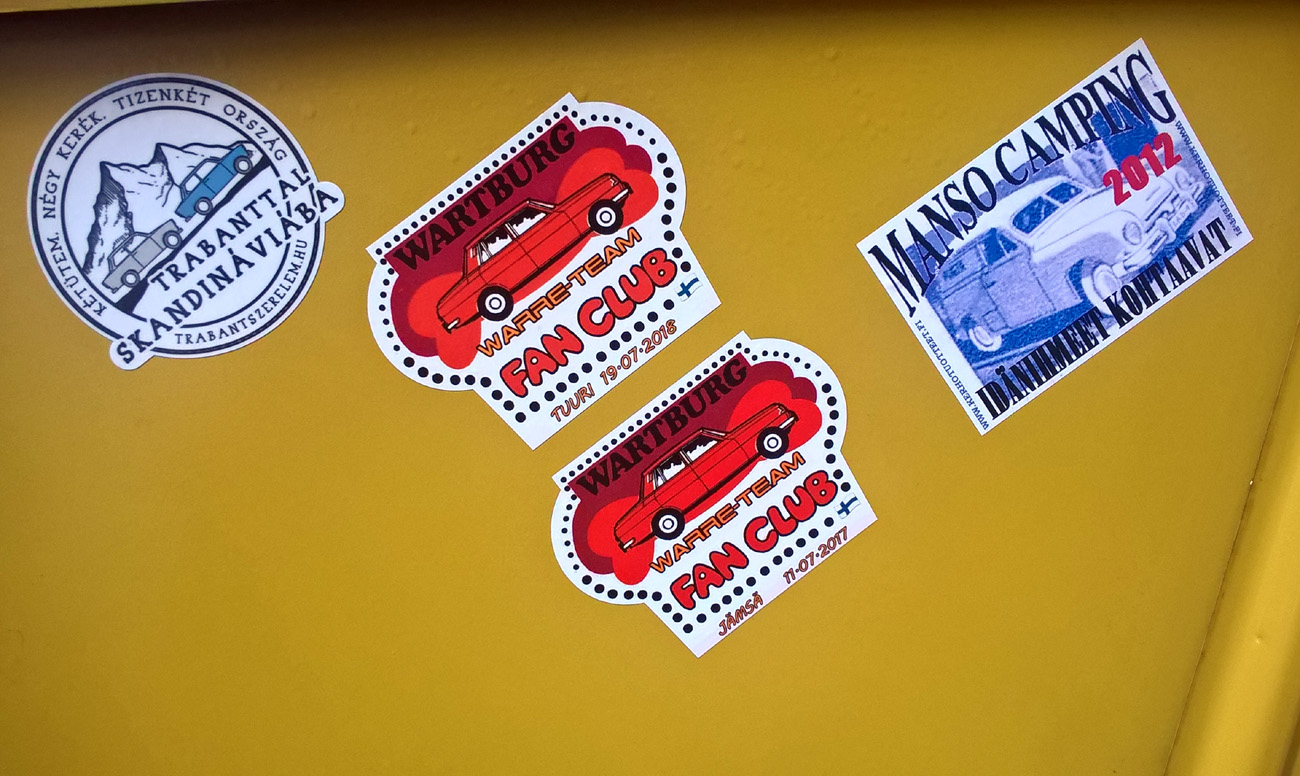 The sticker of the Hungarians' journey is placed in J.K.'s Wartburg as a sign of the international friendship.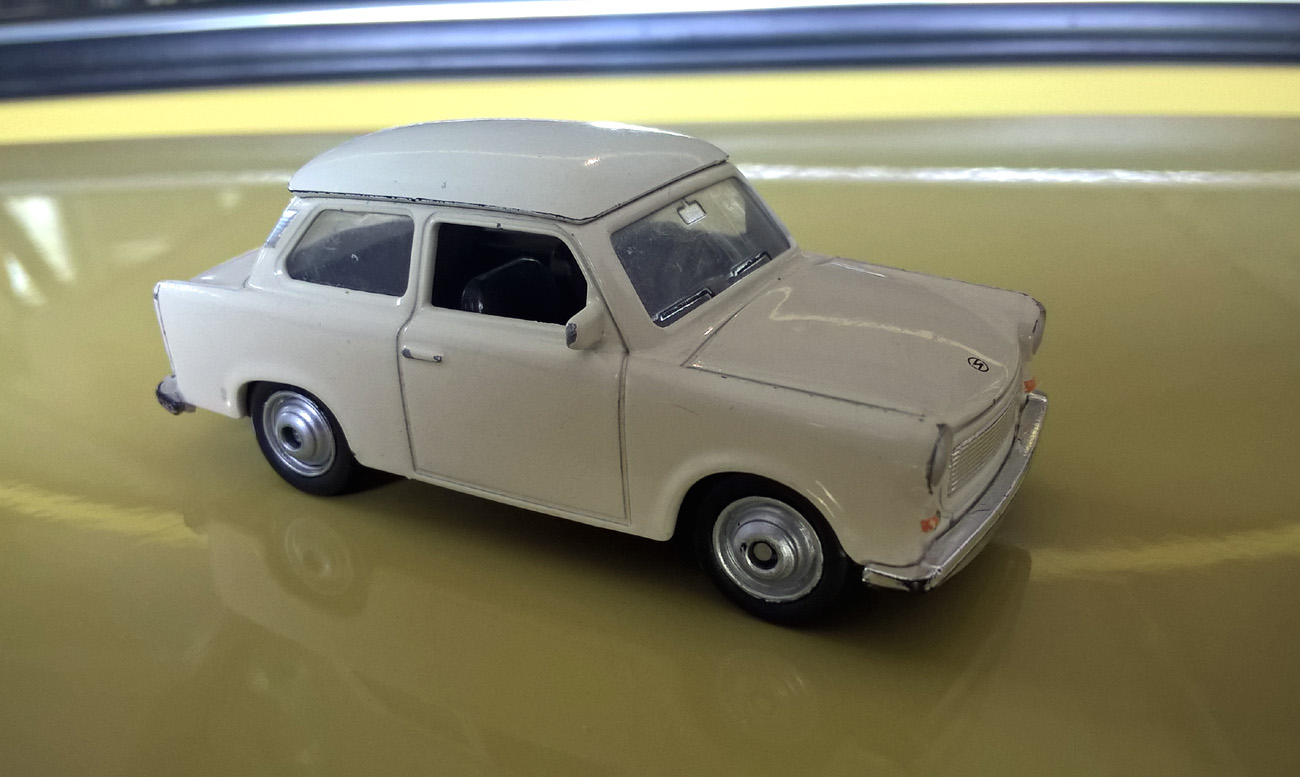 The Hungarians had received a Trabant toy car from a Hungarian boy in order to give it to a child on their tour.
They decided that they should give the Trabant to the youngest member of Warre-Team. J.K. junior liked the
present very much!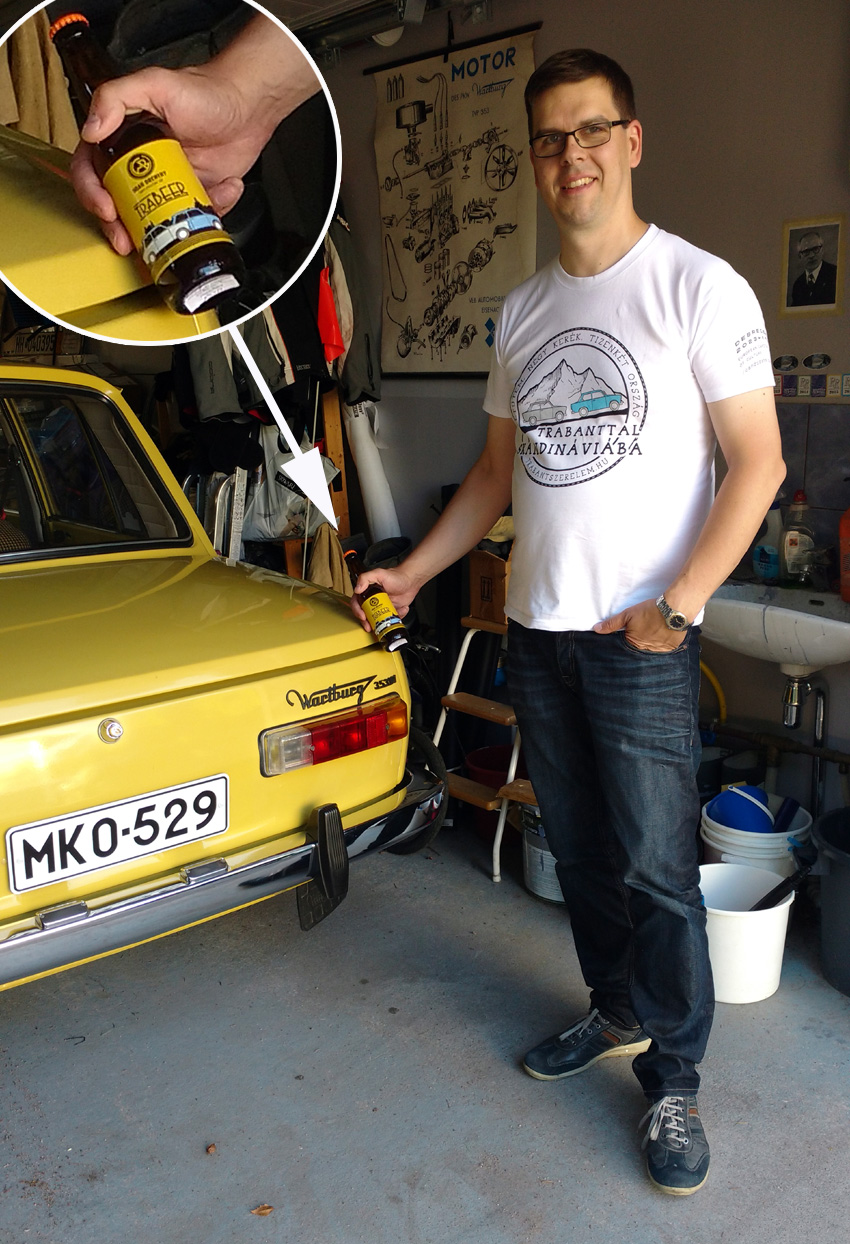 J.K. is fitting the T-shirt and has a Trabeer artisan beer in his hand. Both were presents from the
Hungarians. Thank you so much, Bodobács and Bolha teams! Have good journey!